For at least ten years the US Census has reported one in three persons in the Meadowview community live at or below the poverty level. To address this, in August 2007 New Hope Community Church partnered with Sacramento Bread of Life Ministries to create "The Gift of Groceries" ministry.
The ministry runs entirely on donations. It has no paid staff and all work is performed by volunteers. Every dollar donated is used to acquire, transport and distribute food. We try to provide every recipient with enough food for four people for about 3 days.
We believe people must also be spiritually nourished. We give a short inspirational message and prayer before every food distribution. Recipients are encouraged to ask for prayers if needed and our volunteers will pray with recipients if requested.
Visitors can also apply for CalFresh benefits before or during our Thursday distributions (1:00pm-3:30pm or until we run out of food). If you qualify, CalFresh will issue a free EBT card to purchase food from local stores and will add additional funds to your account each month. CalFresh representatives will help you sign up.
The Gift of Groceries provides a special USDA distribution on the 2nd and 4th Thursday of every month. Special USDA items such as canned food, dry goods, juice, meats and dairy products are provided on these days.
At various times we also provide clothing distributions, job search counseling, information about county and other services, and notices about free local events. Ask for info at the signup table.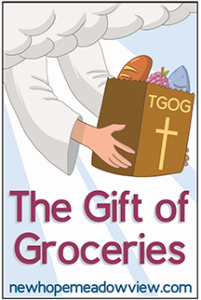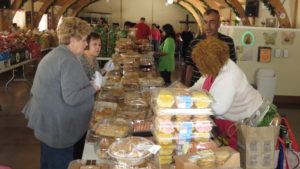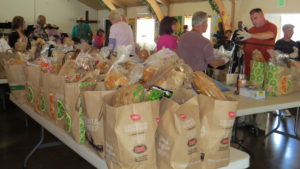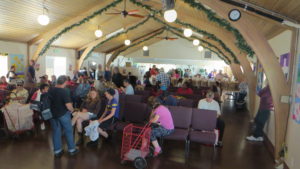 NOTE: This website and our
Facebook page
are the ONLY reliable sources of information regarding this ministry! We are aware we are listed on various service directories or lists with dated or inaccurate information. We regret any inconvenience this may cause, but we cannot be held responsible for incorrect information posted by another website.